KeepKey is a hardware wallet that secures bitcoin, bitcoin cash, ethereum, litecoin, dogecoin, dash, bitcoin gold and multiple erc-20 tokens.
It's a prpduct developed by a company based in Seattle. The company was founded in 2014 and KeepKey was released in September 2015. KeepKey was acquired by a cryptocurrency exchange Shapeshift in August 2017. After that, KeepKey supports sending, receiving and holding 54 coins and tokens through one native Chrome app. Select coins and tokens can be exchanged via the built-in ShapeShift integration allowing for over 500+ unique trading pairs.
Product Specifications
| | |
| --- | --- |
| Material | Anodised Aluminium, Makrolon |
| Protocol | USB HID |
| Port | Micro-USB |
| Processor | ARM Cortex-M3 |
| Chip | TRNG(Randomizer) |
| Display Scree | 3.12 inch OLED (256×64) |
| Weight | 25g |
| Size | 38mm * 93.5mm * 12.2mm |
Product look
Warranty, certification, USB cable, recovery sentence
The size and the weight of the KeepKey
3.12 Inch of OLED displaying screen(resolution 256×64)
A confirmation button on the top
And a Micro-USB port on the product
How to use KeepKey
Before you can start using your KeepKey, you will need to update and initialize the device. Your private keys will be generated during this process. Make sure to write your recovery sentence down and store it someplace safe!
What You Need:
KeepKey
USB cable (included)
Computer
The latest version of Google Chrome browser
Your recovery card (included)
Pen to write down your recovery sentence
Step by step:
Step 1: Download and install the KeepKey Client App from the Chrome web store.
Step 2: Use the USB cable to connect KeepKey to your computer.
Step 3: Open Chrome and locate the KeepKey Client App. (note: You can get to Chrome Apps by navigating Chrome to "chrome://apps/")
Step 4: Follow the directions on your device to update the firmware and bootloader.
Step 5: Select "Initialize KeepKey" after firmware updated
Step 6: Select label for your KeepKey (this can be changed later). A label helps you distinguish your KeepKey in case you own multiple devices.
Step 7:

Select a PIN between 1-9 digits. (note: We recommend a PIN length of at least 6 digits) You will see a randomized, scrambled keypad on your KeepKey display. Find a number you want to choose, then click on the corresponding location in the KeepKey Client Chrome App.
KeepKey scrambled the PIN like this so that the connected computer never learns your PIN. It may seem confusing at first, but once you get comfortable with the PIN entry mechanism, you can use KeepKey on an untrusted computer without worrying that your PIN was discovered.
Step 8: Confirm your PIN. (note: Keypad number placement is scrambled again, so you will need to examine KeepKey's display once more to find the correct location for the PIN choice in the KeepKey Client Chrome App)
Step 9:

Write down the 12-word recovery sentence displayed on your device. This 12-word recovery sentence serves as the backup for your device, and you can use it to restore your funds if you lose access to your KeepKey. As you write down the sentence, carefully confirm that each word is written down correctly. You are only shown this sentence once, and it is very important that you have it written down correctly and in the correct order.
Keep the recovery sentence in a safe and secure place. You will need it to recover your account funds and private keys if your KeepKey is lost or stolen. Anyone who discovers your recovery sentence can access all of your funds.
Your KeepKey is now initialized! Now you're ready to receive your first transaction.
KeepKey APP
The KeepKey App is simple and clear.
With the"Add Account"button, you can add other types of cryptocurrencies including BTC、BCH、LTC、DOGE、DASH、ETH
Receive BTC with KeepKey
Then the App and the key will show the QR code and your wallet address. You can also change the address with the button on the page. Then press the button on the key to confirm.
Then the App will show the bitcoin you received.
Currency Exchange With KeepKey
With the integration of KeepKey and Shapeshift, you can exchange coins and tokens with the device.  First, you will need a Shapeshift account. You can register on the settings page of the App or you can register on https://shapeshift.io
Register an Shapeshift account
Register an Shapeshift account according to the instruction
Log in, the FOX balance is 0, after "Verify ID", it will be 100.
Log in to ShapeShift on KeepKey APP
On the settings page of the APP, "Log in to Shapeshift"
Input your Email and Password to log in
BTC and BCH Exchange with KeepKey
Select "BitcoinCash(bch)"
Input amount and hit"Start Trade"
Confirm the trade on the device
Alert information when balance is not enough to pay the miners' fees
Make the modifications and continue trading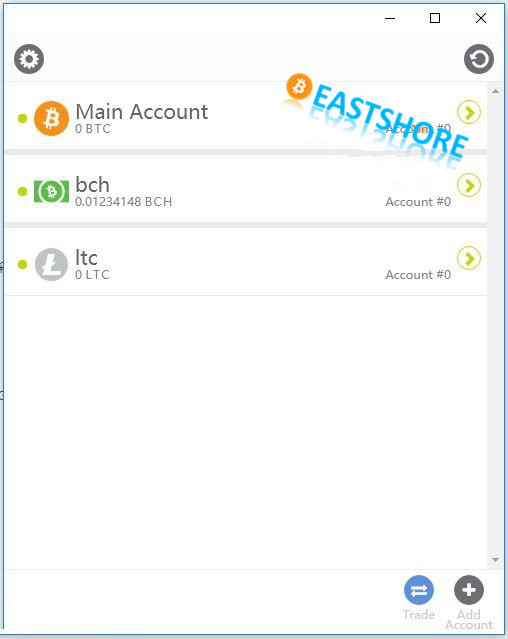 The trade will show in the trade history
Sending BTC with KeepKey
On the home page of the App. Hit Send/Trade Bitcoin"
Input information and hit"Send"
Conclusion
KeepKey supports sending, receiving and holding 54 coins and tokens through one native Chrome app.
Select coins and tokens can be exchanged via the built-in ShapeShift integration allowing for over 500+ unique trading pairs.
KeepKey generates private key using its hardware-based random number generator, combined with randomness provided by your computer. User's assets are protected from hackers and thieves
KeepKey's large display gives clarity to every digital asset leaving the device. Each transaction must be manually approved using KeepKey's confirmation button.
User's private key is stored securely on the KeepKey. It is PIN-protected, which renders it useless even if it falls into the wrong hands.
Appendix
Series articles on bitcoin wallet at EastShore